Pension Reform: What it did and what it means to you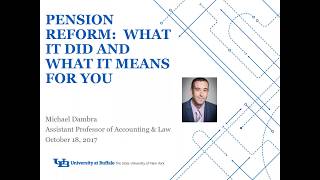 In 2012, Congress changed the rules for pension funding, allowing firms to contribute less to their pension plans. The the move was intended to free up funds for these firms to invest in domestic infrastructure and job growth.
In this webinar, you will learn how the rule change came about, what firms did with the extra cash and what this means for the stability of your pension plan.

Michael Dambra is assistant professor of accounting and law, and teaches in the MBA and Masters of Accounting programs. Dambra's research focuses on the economic consequences of regulatory changes and has been published in top accounting and finance journals such as The Accounting Review and the Journal of Financial Economics. Dambra and his work have been cited by Bloomberg, Yahoo! Finance, USA Today, CBS News, SEC rules and in Congressional hearings. He previously worked as an auditor at KPMG and valued private equity at Empire Valuation Consultants LLC. Dambra is a licensed CPA in the State of New York.