How Investors Add More Than Capital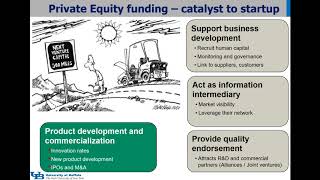 An ultimate challenge for technology entrepreneurs is the need for capital to continue to innovate, sustain and commercialize their innovation.
The considerable risks associated with the technological feasibility, business model credibility, and product or service viability severely limits access to capital, yet angel investors and venture capitalists fill this need by investing in startups in exchange for an equity stake in the company.
This webinar discusses the ways in which investors provide value-added services by influencing startup innovation and commercialization beyond mere capital infusion. Drawing insights from real-world examples and scholarly research, the webinar will shed light on the potential benefits and perils associated with sourcing funds from private equity investors and the challenges of experimenting with innovative ideas.
Supradeep Dutta is a assistant professor of operations management and strategy. His research is at the intersection of technology, strategy and entrepreneurship, exploring a central conundrum for the technology entrepreneur – attracting stakeholders when there is information asymmetry about the venture's quality and market credibility. Dutta received his PhD from Purdue University and MBA from the Indian School of Business.