Data Analytics and Accounting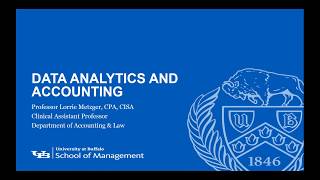 Businesses are collecting vast amounts of data attributed to the rapid rate of technological advancements.
The increased amount of data, coupled with software that can process large amounts of data, provides an opportunity to obtain greater comfort in financial statement balances, test entire population of transactions and monitor for adherence to policies, procedures and regulations.
Join Lorrie Metzger, clinical assistant professor of accounting and law, for a webinar that will discuss the ways in which data analytics apply to the field of accounting. The program will shed light on how analytics are used to perform testing, recalculations and to look for unusual patterns in activity that could indicate fraud or internal control deficiencies. Additionally, Metzger will provide a brief overview of software used to perform data analytics.
Metzger earned her MBA from the University at Buffalo School of Management, her BS from the Rochester Institute of Technology, and is a Certified Professional Accountant (CPA) in New York and a Certified Informations Systems Auditor (CISA). Her teaching responsibilities include undergraduate courses in the area of accounting information systems, graduate courses in data analytics and graduate courses in the area of information technology auditing.
Metzger is also the faculty director of the School of Management Undergraduate Honors Program. Prior to joining the UB faculty, Metzger was a senior auditor in the Internal Audit departments at both First Niagara Financial Group and M&T Bank. She worked as a senior consultant for the Enterprise Risk Services group of Deloitte and began her career as an auditor for the Arthur Andersen firm.